Yohance Harper has been speaking with React News discussing why the office proves to be a crucial asset for any business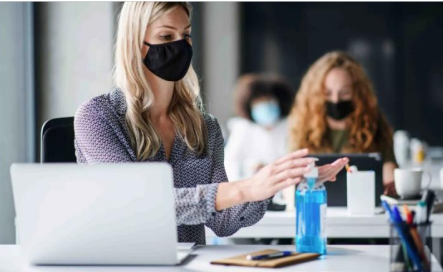 Starting a new job is always daunting regardless of your sector, and with most beginnings, change is exciting and the new opportunity can open doors to many more.
I joined Quadrant in March 2020. Luckily I was able to meet the team and my seniors before the national lockdown, so I had some human interaction before spending the first seven months of my new role on Zoom. Like me I'm sure may young professionals starting a new role will agree that it has been somewhat lonely, and awkward at times as you attempt to form bonds with your new colleagues through a screen.
The pandemic abruptly pressed the pause button on life as we knew it and CEOs to interns felt the effect. Remote working was the main alteration of 2020, as it came with its difficulties but demonstrated that workforces can operate from home and take a flexible approach to the normal nine-five regime. However, what the past year has shown is the need for a post-pandemic office - a space for young professionals to learn through osmosis, face-to-face interactions and understanding the company's culture by being present in the eco-system of the office, whilst also offering the flexibility that came with remote working.
Many jumped to conclusions that the office was dead, but really, the office proves to be a crucial asset for any business. A business' success is measured on its people and young talent plays a big part in this as we bring fresh ideas, a willingness to learn, innovation and energy. For businesses to attract and foster this type of talent, the office needs to adapt, learning from the past year's challenges with flexibility at the centre of it.
Research by Engaging Works found that almost two-thirds of employees want a split between remote working and time spent in the office following the pandemic. A workplace needs to cater to everyone's needs, be that a new starter looking to shadow someone or a director looking for two-minutes of silence to finish a document. People need a space that provides a good environment for tasks such as writing reports and doing research, but also for collaboration, brainstorming and problem solving.
The pandemic has also thrust the fact working from home has exacerbated mental health issues. Mental health charity MIND revealed over two-thirds of young people felt their mental health had deteriorated since the pandemic started in March 2020. These statistics show how important it is for employers to put employees first and create a safe space to communicate and that supports everyone. As we begin 2021 in a national lockdown, it is more important than ever to ensure employees and new starters know they have a support system.
To achieve this, investing in a successful office space is necessary if we want to create a hub to attract and foster talent. Offices are an attractive asset to ensure great returns the market needs to concentrate on re-designing spaces to cater to our evolving needs. Investment in the sector is crucial as state-of-the-art pandemic-proof offices are creating homes for future agents.